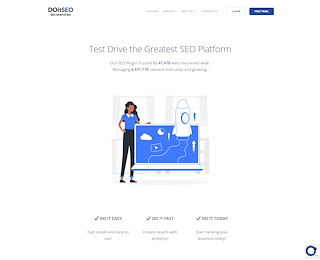 In today's world, experts are the only ones who can best handle Search Engine Optimization (SEO) with search engine rules continually changing and increased competition the digital market experiences. This has now seen the world of online marketing embrace white label tactics. And this is mainly because these services are essential to marketing agencies, freelance developers, web design companies, and even startup businesses. White label SEO reseller services enable you to provide quality SEO services to your clients without the cost of hiring and maintaining your SEO in-house crew.
Do It SEO is one of the leading white label firms in the industry; we provide customized white label marketing solutions for web design companies, marketing agencies, and businesses of all sizes. We have worked with a series of clients from small scale to large scale businesses, and we'd be glad to add you to our client base. Our experience and expertise in different white label reseller programs make us confident to always provide exceptional services that present you as a professional before your clients.
White label SEO programs we offer are;
On-Page White Label SEO
Sometimes, excellent content on your clients' sites may never be found on search engines when users do research. In such cases, it's obvious that the contents aren't correctly linked to search queries. Do It SEO on-page SEO services addresses such by checking all technical SEO checkboxes and ensuring that search engines can read and understand their website's content, thereby leading to increased organic traffic.
We provide quality on-page white label services for resellers, which help search users find your client's content quickly, and then converting to high quality leads.
White Label Off-Page SEO
Most times, white label off-page SEO's significance is often overlooked, with most business owners solely associating it with link building. Although link building is a significant component of off-page SEO, there's a lot beyond that. Off-page SEO is more about promoting your business outside your website.
Do It SEO off-page SEO service can help your client gain more clicks from other websites, seeing users land on their page to explore more information. And this helps create chances for a high lead.
Private Label SEO Audits
With our private label SEO audits services, your clients get to oversee their online presence. By providing your clients with the needed insight, they will have the idea to make necessary corrections to their directory information, website, and many more, to reach more audiences and generate more organic traffic. We will provide them with the needed data to stand out among their competitors and generate more income, all via your SEO audit agency.
Competitive Analysis
The competitive analysis report remains a weapon your clients can use against their competitors to become leaders in their specialized industry. Competitive analysis is all about detailed reports. Do It SEO's analysis report doesn't only provide a considerable amount of your client's data, but also their competitors. Our report provides lapses in their competitors' online presence, which your clients can capitalize on to gain more traffic. Do It SEO competitive analysis report comprises of a thorough analysis of several factors such as branded keywords, non-branded keywords, content gaps, and many more.
This information is presented and organized to the best understanding of your client. Our competitive analysis report makes SEO resellers look amazing before their clients.
White Label Content Management
Mostly, content management often gets overlooked and which isn't supposed to. Content management includes activities such as blog posts update and extra keyword addition to a site. Our team of experts will ensure your client's site contains newer content with keywords similar to existing ones. These contents will be optimized to enhance your clients' website visibility.
In Conclusion,
Teaming up to form a white label digital marketing and reseller partner with Do It SEO will significantly see your agency business makes enormous profits. All our white label SEO programs are structured to boost your clients' success in a short time. Our reseller agency platform is built to scale with you by offering various one-time and retainer services.
Contact Do It SEO for a free demo/consultation: https://doitseo.com/contact/ (208) 639-9867.